Insight - value chain Management
Effective inventory management - a measurable success factor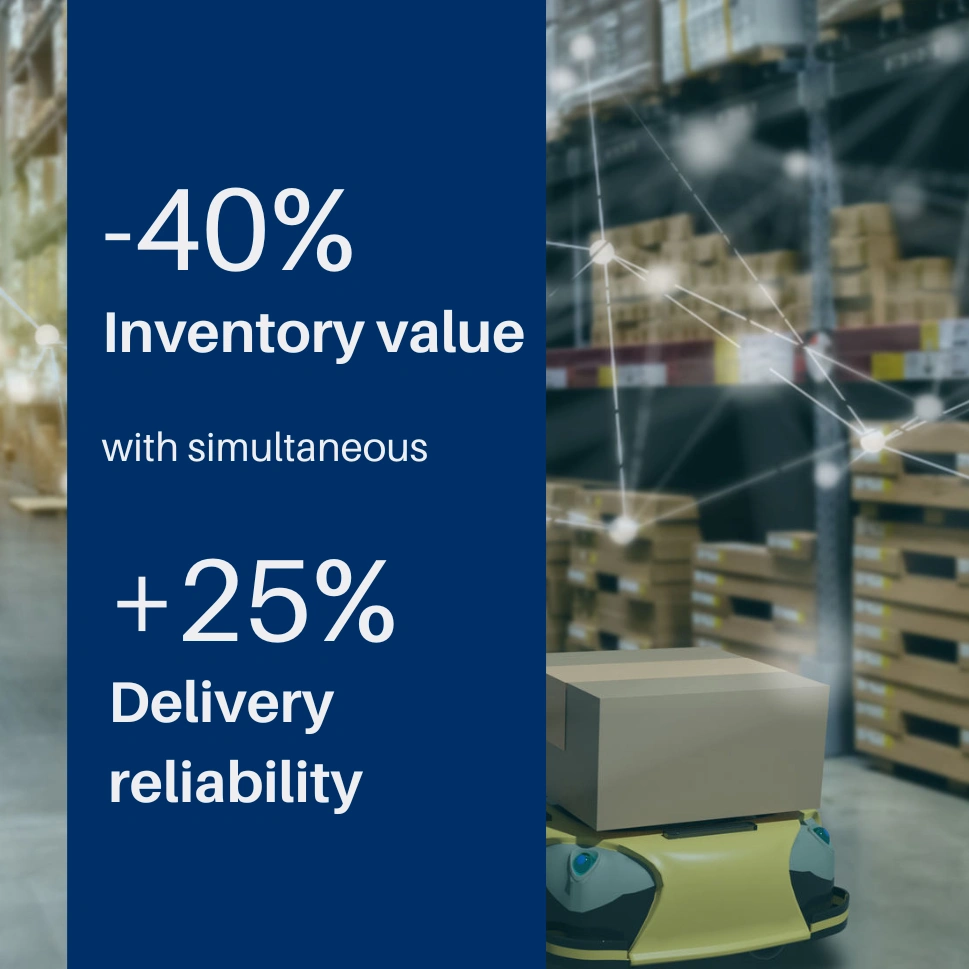 Optimal stocks in the right place at the right time

The days of radical inventory reduction are over against the backdrop of drastic and increasingly unpredictable market movements. Today, companies need the security of being able to meet customer requirements ("security of supply"), hold the right stock for this and at the same time not build up an immense inventory.

This is a double-edged sword that can be decisively countered by effective inventory management as the core of working capital optimization. It is important to define these levers and derive the right measures at the right time - correctly interlinked with the other levers for supply chain optimization. This is not always a trivial undertaking.
Inventory management as an evergreen - often underestimated, always needed
Inventory management is considered a true supply chain evergreen, yet many companies still have an essential need for action in order to achieve maximum profit through consistent and effective inventory management.
In the past, the motto was "as little stock as possible", but today, against the backdrop of drastic market disruptions (Covid-19 pandemic, trade barriers, Israel-Gaza conflict, Russia-Ukraine war, Suez Canal blockade, etc.), the principle of "optimization rather than pure reduction of stock" applies. In other words: the right stocks in the right quantities in the right place.
It has never been more important to evaluate inventories on the basis of intelligent segmentation of raw materials, semi-finished and finished products in terms of risk, resilience and security of supply, as well as financial impact.
Only those who understand the topic of "inventory management" as a discipline of working capital management and as the heart of the supply chain & operations strategy will be successful in the long term.
This end-to-end approach - if implemented correctly - results in essential benefits for the entire supply chain, which are reflected not only in the elementary balance sheet and cash flow items, but also in the most important key performance indicators.
Inventory management as a measurable advantage - maximum delivery reliability with ideal inventories
We support you in the analysis and design of customized inventory management - with a fast ROI.

By taking the right measures in the right place at the right time, effective inventory management can lead to drastic improvements in supply chain performance, even in the short term. The focus is on increasing customer satisfaction by increasing on-time delivery (up to +25%) and improving service levels (up to +10%) and improving internal processes and key performance indicators to reduce inventory value (up to -40%) and the necessary storage capacity (up to -20%).
This paves the way for growth, cost optimization and profit optimization.
In order to establish inventory management as an interface topic and starting point for many other optimization measures along the supply chain, it is worth focusing on five elementary success factors.
Inventory management as the operational key - our TOP 5 success factors
(1) Segment raw, semi-finished and finished products end-to-end as a basis for suitable planning strategies: An ABC/XYZ analysis provides an initial indication of the specific parameterization of inventories; the inclusion of risk, resilience and business criticality parameters creates a further advantage for realizing inventory reductions and optimizing on-time delivery. It is also not uncommon for make-to-stock, make-to-order, make-to-forecast or engineer-to-order methodologies to be incorrectly assigned and refer to inappropriate procurement and stockpiling conventions.
(2) Define decoupling points at the right points in your supply chain:Step 1 to strategically hedge against bullwhip effects and market fluctuations is to fix the correct inventory positions. With the help of the right decoupling points, you can safeguard against delivery difficulties from key suppliers, reduce missing parts in a targeted manner and strengthen the resilience of your value chain.
(3) Take advantage of your ERP and planning system and store the right safety stocks: Not only the position, but also the dimensioning of the stocks is of fundamental importance and not always trivial. Maximum stocks, cycle stocks, safety stocks and reorder points can be calculated with the right data set and stored in the ERP or planning system. In this way, you can move from being a "gut controller" of stocks to a "plan controller" of stocks, ideally supported by the existing ERP system.
(4) Define suitable inventory KPIs and incorporate them into your S&OP process:Adequate corporate management does not only focus on key financial figures in the balance sheet, income statement and cash flow. While these key figures only show the financial consequences of the performance or non-performance of inventory management, Supply Chain & Operations KPIs reference the actual causes and allow conclusions to be drawn about specific corrective measures. Companies that consistently measure their inventory turnover, dead stock, the variability of stock inflows and outflows or process KPIs such as warehouse throughput times or supplier performance indicators and use them for overarching control have a real competitive advantage. Those who incorporate these KPIs into decisions in structured Sales & Operations Planning rounds get the most out of Demand & Supply.
(5) Introduce dynamic buffer stocks that are regularly reviewed:It is not always easy to strike the right balance between dynamism and calm. In times of increasingly dynamic, complex and volatile markets, it is essential to ensure a certain degree of dynamism within the company. This is where dynamic buffer stocks come into play, for example, which, depending on their parameterization, cushion a large part of the market volatility in times of demand peaks or troughs and at the same time have a positive influence on supply capability. This approach clearly shows that the currencies "smoothing out production, devil-may-care" and "complete adaptation to market fluctuations" are obsolete and must be replaced by more intelligent strategies. Effective inventory management is at the heart of this.
Inventory management as a starting point for improving performance - our approach
Our recommendation to companies: Define a specific objective for your supply chain and focus on our five success factors as part of inventory management.
Even with little effort and little upfront investment, the first essential and measurable improvements are already possible based on our proven approach. Starting with an initial workshop, we carry out a rapid assessment to identify immediate measures and quick wins. We then lay the foundations for a successful transformation with a structured and comprehensive quick scan and a strong conception phase.

In an initial workshop, we carry out a rapid assessment with you. Here we determine the current consequences of the problem in order to move on to the actual causes of the problem.
Your benefit:
Objective status quo assessment by our experts and heads-up on typical causes of problems in the context of inventory management

Initial map for specific levers in your company, including interlinking with adjacent optimization fields (e.g. procurement, production and sales planning, S&OP, batch size optimization, etc.)

Concrete procedure for deriving and realizing initial quick wins

Outlook for sustainable optimization and transformation in your company, staggered in sensibly coordinated packages
What do you have in store? Click here for the appointment link to arrange a workshop for an initial rapid assessment. Let's get started together.
Summary
Inventory management was, is and will continue to be an elementary component in the supply chain environment. However, even after years of establishment, inadequate measures relating to the topic of "inventories" are still being observed in many places. Based on our five success factors, it is important to derive the right measures in order to be able to achieve the frequently set goal of "reduced inventories with optimized delivery reliability" in the long term. A task that is not always trivial, but one that is particularly promising and - in view of the increasing market uncertainties in the coming years - without alternative: effective inventory management.