Insight
End-to-end quality control enables capacity expansion and cost reduction in supply chains
October 2023

Supply chain bottlenecks cause problems for many companies. One answer to this is an end-to-end testing concept across the entire supply chain that facilitates wide-ranging optimization. This requires end-to-end quality management, the development of appropriate inspection equipment, and long-term process support. Helbling implements this for clients. In the case of a machinery company, this led to improved quality, lower costs, shorter delivery times, higher throughput, optimized staff deployment, and a reduced footprint in production.
Initial situation
In recent years, the industry has experienced large-scale fluctuations in demand. At the same time, supply chain bottlenecks have emerged, and the shortage of skilled labor has intensified. As such, companies are faced with the question of how they can gain more security and increase flexibility. The example of a Helbling client shows the possibilities opened up by an end-to-end inspection concept across the entire supply chain. A Swiss machinery company faced the challenge of hugely increased demand that began two years ago and led to a shortage of qualified employees as well as workspace at its headquarters. As a result, they ran the risk of losing out on customer orders. At that time, external suppliers were already being used by the company to manufacture and assemble the majority of their machine sub-systems. Only the assembly of the sub-systems with the core processes was handled internally. After that, all sub-systems were assembled, commissioned and tested at the headquarters, which led to a bottleneck in relation to employees and space. The customer was therefore looking for a solution that involved neither expensive leases nor construction projects, nor time-consuming recruitment and training, while also giving them the flexibility to respond to potential sales fluctuations in future.
An optimization with enormous potential
Collaboratively, the client and Helbling developed a process that enables suppliers to handle commissioning and qualification of the sub-systems right at the start of the chain. This step eliminates the need to assemble and commission the entire system, thus saving workspace. In addition, the company's own employees can focus on the core sub-systems. This approach also has a tremendous sustainability impact: by not assembling the entire plant, transportation costs can be saved, and the environmental impact is accordingly reduced. With a global supply chain, sub-systems otherwise produced in Asia are shipped to Europe for integration and then returned to the end customer in Asia.

How are emerging risks mitigated?
Faults are often only discovered and rectified during final assembly. If this final assembly stage is omitted, there is a risk that defects will only occur at the end customer and have to be rectified there at considerable additional cost, time pressure and loss of reputation. This must be prevented. Potential errors are identified by means of a methodical and comprehensive risk analysis and by leveraging expertise and experience from across the entire value chain. Based on this error profile, suitable measures can be taken, such as adjustments to the product design or how production tests are defined. The cost-benefit ratio is taken into account when evaluating the implementation of the measures. If too few tests are carried out, the residual risk is too great; if too many tests are carried out, throughput declines and costs increase.
Basic requirements: Involve stakeholders and follow guidelines
Since the entire value chain from the supplier to the end customer is affected, it is important to ensure that all stakeholders involved are onside for the project. After all, they contribute crucial knowledge and are ultimately responsible for the project implementation. Careful communication is therefore essential. The aim here is to prevent any fears, for example in relation to job losses, from arising, and instead work out what individual benefits will be generated. In this way, for instance, more interesting tasks are created instead of routine jobs. It is advisable to work with an external partner because they have a neutral external view and no conflicts of interest. In addition to the internal stakeholders, norms and standards such as export and customs requirements as well as country of origin declarations must be complied with. Despite the lack of FAT, the end customer can benefit from advantages such as shorter delivery times and greater transparency.
The test system as the central element
Testing equipment is at the heart of the successful implementation of the project. It is used to check individual functions and performance parameters of the subsystems. The test devices simulate the rest of the system, map important interfaces and ensure personnel safety. Depending on the application, it is also possible to load the corresponding software version onto the subsystem via the test device to adjust parameter settings.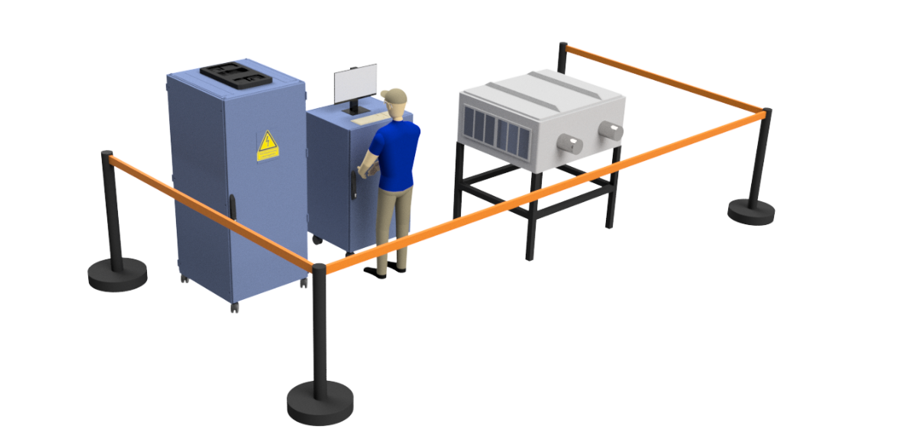 When capturing data, care must be taken to ensure that the process sequence can be reliably repeated and and that a reliable method of recording data is implemented. This can be achieved through work instructions for manual tasks or by means of targeted automation. Manual tasks are managed and documented through data entry in a dedicated application for PC or tablet. Reproducibility allows tested sub-systems to be compared with each other and broader conclusions about quality and suppliers to be drawn.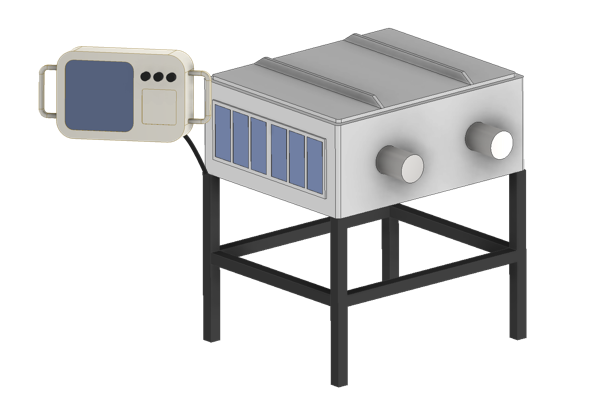 The characteristics of the test equipment can vary greatly: Anything is possible, from a small diagnostic device to a table-top test station, to large equipment.
Modularity is the key to successful implementation
For companies from the machinery and plant engineering sector, a modular structure of the hardware and software of the products to be tested, the test equipment and the test software is of crucial importance. The system is divided into sub-systems (=test units) according to standardized rules. This forms the essential prerequisite for an equally consistent test equipment platform and thus similarly configured test equipment. In specific terms, this includes the same operating procedures, consistent control and measurement hardware, tools and analysis applications. With this platform, different customer orders can be handled with the respective configurations. This allows efficient development with a one-time investment. It also enables efficient maintenance and servicing as well as reduced spare parts inventory.
With its vast experience and extensive expertise in product development and in the areas of test equipment and processes, Helbling can provide the crucial inputs in this regard.
Factbox
Data, the new resource:
Further benefits can be generated through end-to-end and digitized data acquisition:
Sub-system tests at the supplier not only provide an assessment according to OK / NOK (not OK), but the performance parameters of individual sub-systems can also be recorded and expected delivery delays can be identified at an early stage.
Transparent performance data simplifies the comparison of individual suppliers.
The number of aborted tests provides an indication of weaknesses in the subsystem design.
The standardized acceptance tests are used as an outgoing inspection (FAT) before delivery to the end customer.
Performance tests are regularly performed in the field to maintain machine quality. Such diagnostic- and maintenance cycles are integrated into the plant control system and consistent characteristic values are recorded. These can be further utilized for the following purposes:

Deviations of the characteristic values compared to the standard can indicate malfunctions and defects (predictivemaintenance, increase of uptime).
Characteristic values can indicate necessary improvement of the machine design and reveal too robustly executed functions.
A logbook of the machine is possible, which gives security for a re-use in a circular economy (see Insight September 2022).

Digital data capture allows updates to be easily implemented to adjust the sequence or even the processing of options and variants.
Systematic and consistent data collection enables many stakeholders in the value chain to generate individual, additional benefits. The list is by no means exhaustive and is only intended to illustrate the bandwidth.
What was achieved in this specific case?
The project was successfully completed. Initial success was already apparent in the first few weeks. In the meantime, the new process is being continuously extended to other machines at the customer's site.
Summary: End-to-end testing concepts require independent and interdisciplinary teams
End-to-end testing concepts offer great opportunities for companies. For them to have optimum effect, expertise in the field of innovation and engineering and competencies in the development of testing processes and equipment are of fundamental importance. With its interdisciplinary teams in addition to experience and roots in diverse industries, Helbling is able to optimally support its clients.
Authors: Stefan Huggenberger, Daniela Biberstein
Main Image: Stable Diffusion