Insight
New energy concepts in the mobility sector require innovative solutions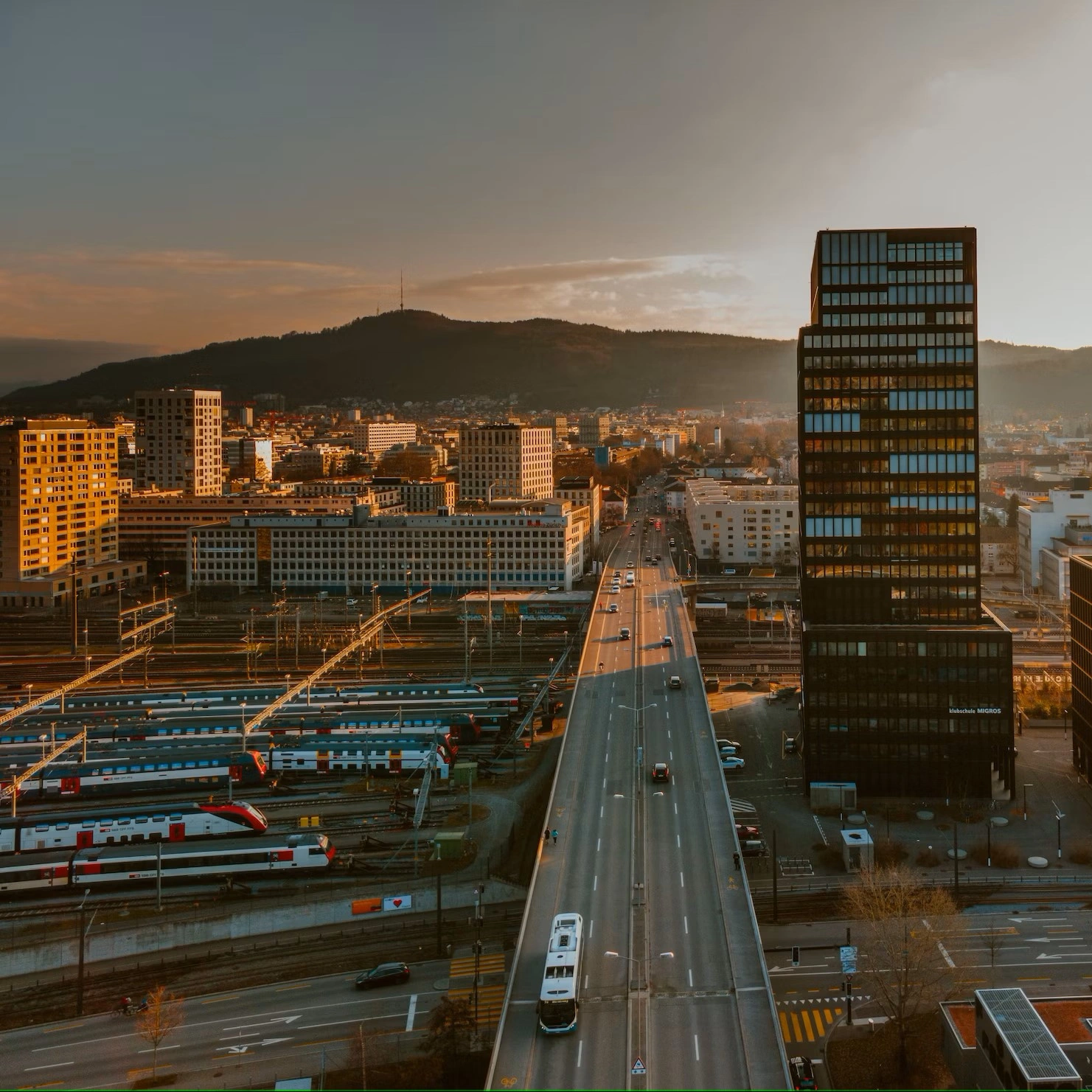 The transport sector offers crucial levers for reducing Switzerland's environmental impact. More than one third of energy demand and slightly less than one third of greenhouse gas emissions are attributable to transport. A dependency on fossil fuels in the passenger and goods transport sectors is the main factor behind this. Based on Helbling's many years of experience, a detailed examination of the various subsectors shows which strategies can have the greatest impact in which areas.
With the Energy Strategy 2050, Switzerland has set ambitious targets to drastically reduce the environmental impact of energy production and use in the country. The goal is to achieve net zero greenhouse gas (GHG) emissions by 2050, and a reduction of 50 percent by 2030 compared with the levels recorded in 1990. To achieve this, Switzerland is focusing on reducing greenhouse gases, promoting renewable energies, and increasing energy efficiency. An efficient, targeted use of resources, funding and political action requires the identification of the most important levers.
For years, Helbling has been involved in various projects in the transport sector, the largest GHG emitter by sector – ahead of industry and private households. This and Helbling's experience show that targeted project planning and technological innovations are urgently needed, but also that there is huge potential for reducing the environmental impact. Currently, the transport sector is responsible for around 36 percent of the country's total energy consumption and approximately 29 percent of greenhouse gas emissions in Switzerland. The latter is mainly driven by the dependency on fossil fuels in passenger and goods transport, with passenger transport accounting for 72 percent of the emissions in the transport sector, and goods transport responsible for a share of 23 percent in this regard.
In comparison, 20 percent of transport in kilometers takes place by public transport (PT), for example by train, bus, or tram, which accounts for a share of 3 percent of emissions in CO2 equivalents (CO2-eq).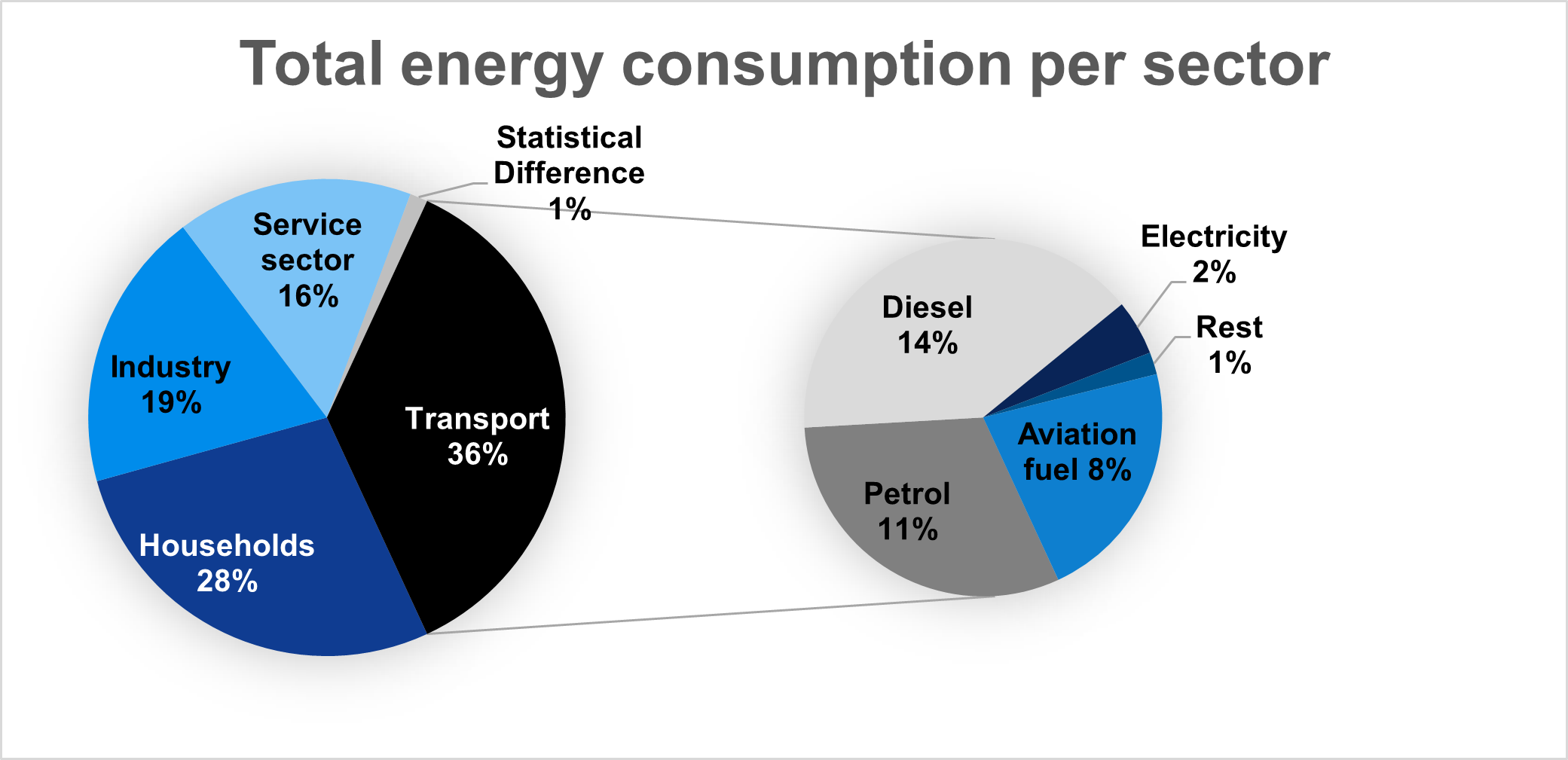 Total traffic can be divided into the categories of road-bound private transport (cars), public transport, goods transport, and special vehicles as well as aviation. In the following, these categories (excluding aviation) are characterized, and key features are highlighted in relation to the energy future.
Private Transport (Cars):
The electrification level of the Swiss passenger car fleet in 2022 was 2.3 percent, making a total of 110,751 pure electric vehicles (BEVs). In the first half of 2023, around 18.7 percent of new passenger cars were BEVs.
factbox
Range anxiety with BEVs is irrational
The average Swiss person spends 39 minutes a day in the car and drives about 21 kilometers in this time. On average, the car is occupied by 1.5 people. This means that the average car is only in motion for about 3 percent of the day. Range is only relevant on the rare longer journeys, but what counts most is how the car can be recharged during a break. In this respect, current models are so far advanced that they can recharge more than 400 kilometers of nominal range within 20 minutes with the appropriate infrastructure.
This trend of ever faster charging times will be reinforced in the coming years by improved pre-tempering of the battery, better cooling during the charging process and new cell chemistry such as a higher silicon content in the anode – although to achieve this, the relevant rapid charging infrastructure with higher charging capacity will be required.
Therefore, in everyday use, the range anxiety still frequently associated with e-mobility cannot be rationally justified.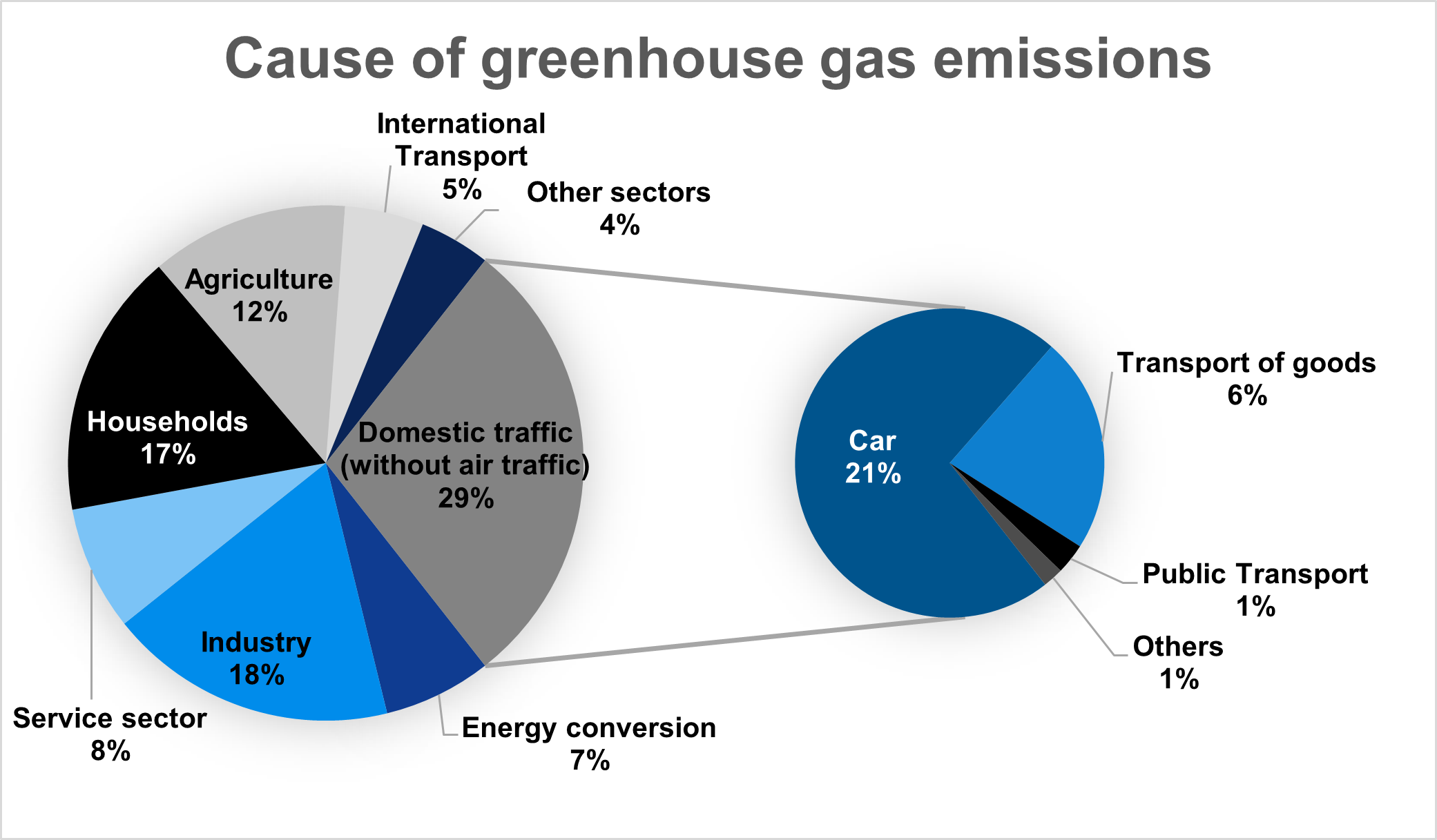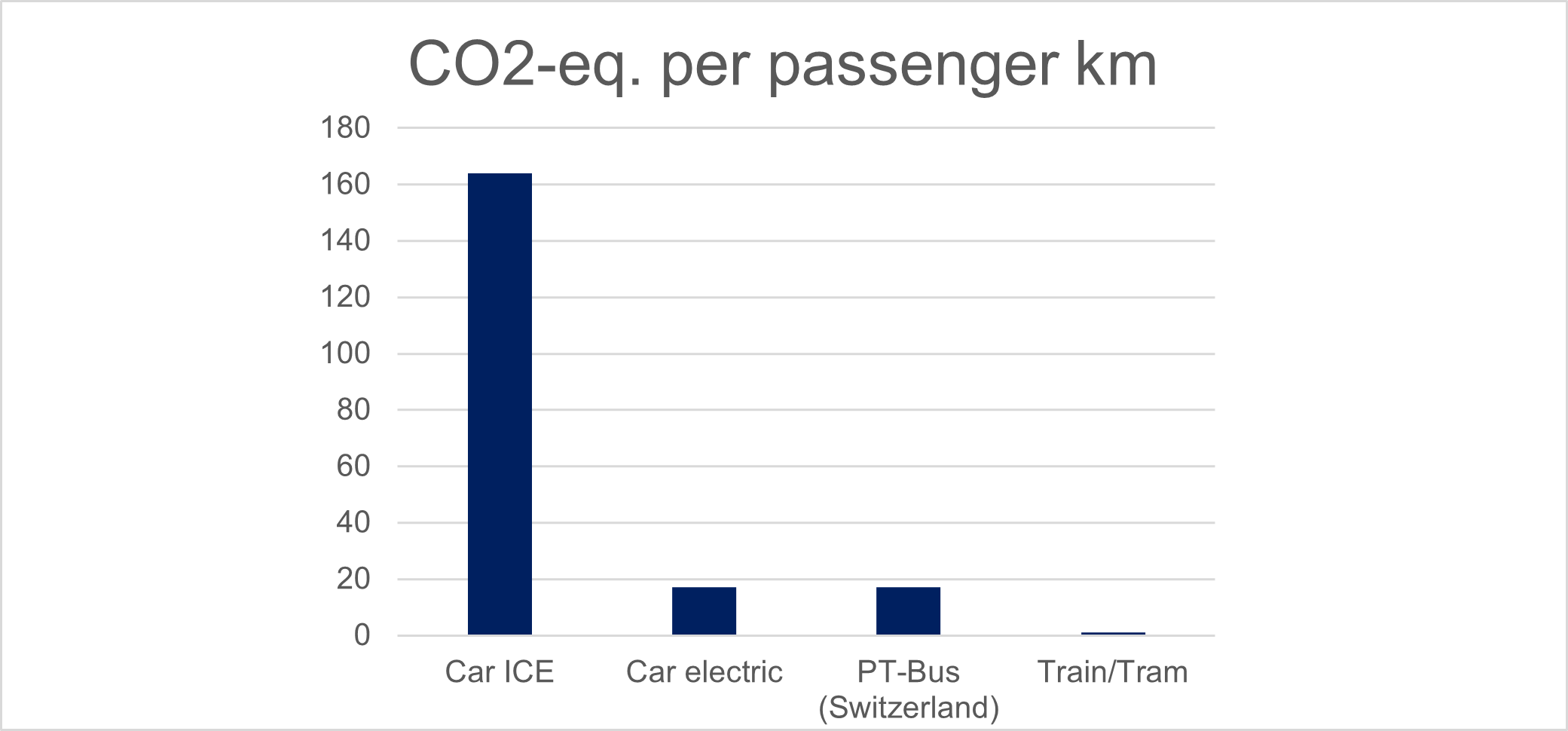 As far as vehicles and vehicle models are concerned, the technical challenges and financial hurdles seem to have been overcome across the board for the most part. However, the electrification of mobility will still demand a lot from cities and municipalities, as the power grids will need to be adapted. In terms of electricity, the focus should be on renewable sources, while the charging infrastructure must also be expanded, as there are 575 cars per charging point at present. Here, Switzerland lags far behind Norway (147 cars per charging point) and the Netherlands (109) in an international comparison.
The increased introduction of car sharing and a greater shift to public transport play a crucial role in creating a sustainable transport future. Given the low usage time of private cars, these measures are particularly significant. Car sharing enables efficient use of resources, reinforced by the higher investments in BEVs by car sharing providers. The attractiveness of public transport can be strengthened by expanding the network and capacities, in addition to ensuring higher frequency of services.
Public Transport:
Swiss public transport achieves significant environmental benefits due to the fact that the Swiss Federal Railways (SBB) network is almost totally operated on the basis of hydroelectric electrification. In addition, trolleybuses and trams with overhead lines are in use in many larger Swiss cities.
For interurban routes and smaller municipalities, where overhead lines are not a viable option, battery electric and hydrogen buses are the alternatives. Many municipalities and bus operators are already switching to these technologies. The trend is expected to gain further momentum in the coming years. Operators face several challenges in this transition:
1. H2 or battery electric: The choice between hydrogen (H2) and battery electric buses depends, among other things, on the availability of hydrogen and hydrogen refueling stations, the topographical conditions of the route and the costs.
2. Depot charging or intermediate charging: Buses can be charged in the depot during the night or at intermediate charging stations during operation. The choice depends on the route, usage, and infrastructural conditions.
3. Battery size: the size of the batteries is crucial in order to cover the necessary range, for example in winter. However, this also influences the costs involved and transportable weight.
4. Renewable energy: the use of renewable energy sources such as solar energy or wind power to generate electricity for the buses makes an important contribution.
5. Infrastructure and training: The provision of the necessary charging infrastructure and staff training are important aspects of the conversion.
Optimal solutions are needed to smooth the transition to environmentally friendly bus fleets and to ensure the long-term sustainability of public transport.
factbox
Microgrids
One way to make local renewable energy available for public transport even on remote routes is to establish microgrids. These are autonomous energy supply systems that can integrate renewable energy sources such as solar energy or wind power. This energy can then be fed directly into the operation of the electric bus fleets. Thus, a microgrid not only helps to further reduce the environmental impact of public transport, but also offers the possibility to reduce energy costs and increase energy independence.
Cargo Transport:
The average inland road transport covers a distance of only 39 kilometers. In total, 37 percent of shipments in tons are transported by rail in Switzerland, especially for longer distances of an average distance of 110 kilometers. This shift towards rail transport for longer journeys puts Switzerland in a good position in an EU comparison. A continued shift can further minimize the environmental impact of freight transport.
Especially for shorter distances and smaller loads, interest in electrification is already emerging. Electric vehicles and alternative drive technologies offer a more environmentally friendly option especially for inner-city and regional transport, i.e. for last-mile solutions, but also for frequently recurring and easy-to-plan shipments. This can be seen, for example, in the case of the postal service.
There are already several battery-electric trucks on the market. Their range, which can currently reach up to 550 kilometers, depends on factures such as the vehicle body and payload, in addition to other factors. This means that a large part of transport in Switzerland can already be electrified. However, the prerequisite is good planning for the journeys in terms of distance and payload, but also for charging the vehicle fleet. Furthermore, transport companies must convert their logistics centers and vehicle parking areas to install charging infrastructure.
Electrified vehicles are also already available for small vans. With a current range of up to 350 kilometers, they are particularly useful in urban areas.
In general, this development is still in its infancy. This is shown by an IHS Markit study, according to which Switzerland was the European leader in 2021 with 77 fully electric trucks (>=16 tons). In order to make progress here, transport companies will essentially be confronted with the same issues as bus operators.
Multi-Purpose Vehicles:
The GHG emissions of multi-purpose vehicles are somewhat lower than those of trucks in a sector comparison. They are typically vehicles with functionality beyond just driving. These face unique challenges, especially in the construction and agricultural sectors, due to their highly individualized use.
At best, such vehicles are produced in medium series for these sectors. In some cases, they are also produced as one-offs with solutions specially tailored to the respective requirements. These customized vehicles and machines are necessary to cope with the diversity of tasks, whether in construction, agriculture, or other sectors. Flexibility and adaptability are crucial to meet the requirements of these industries and to develop innovative solutions for complex challenges. As such, even custom-made products or converting existing vehicles can be worthwhile options.
Summary: Sustainable energy concepts for the electrification of Swiss transport are feasible
While public transport already has a decent environmental balance, electrification is in full swing with regard to private transport in Switzerland. In terms of the technology, this area seems to pose a challenge only in terms of charging infrastructure. The increasing shift from road to rail remains an effective means of reducing per capita emissions in a targeted manner.
The transport of goods over longer distances and special vehicles deserves particular attention. Here the die is not yet cast, and the lower volumes and diverse fields of application call for specifically tailored solutions. Helbling boasts expertise in the development and implementation of energy concepts in all mobility sectors. As consultants, Helbling is in a position to make a significant contribution to achieving the goals of the energy strategy.
Authors: Alexander Weiser, Simon Müller
Main Image: Unsplash