Project
Financial transparency - conception and implementation for a food producer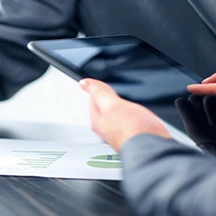 Based on a comprehensive analysis of the current situation, concrete measures were derived. The resulting package of measures, "Financial Transparency", was successfully implemented under our leadership.Together with our client, concepts - adapted to the specific circumstances of the company - were created and implemented.


Our Services

Comprehensive analysis of the current situation of the company and derivation of concrete, realisable measures.

Concept and implementation of a new article costing (incl. adaptation of work plans in the ERP, overview for internal cost calculation as a basis for costing, calculation of hourly and machine rates etc.)

Development and introduction of a new article master data concept

Concept for the creation of a product portfolio as a future-oriented basis for decision-making

Revision of the value flows in article purchasing in order to be able to compare purchase prices on an equal basis

Development and creation of the data basis for the compilation of management-relevant company key figures

Concept and content of management reporting

Know-how transfer in the areas of controlling and costing
Result
Significant increase in transparency in purchasing, sales, inventory and quoting.
(Data) bases were created in order to make strategically correct decisions.
The measures recommended for the other areas were implemented independently and led to significant savings.